Hosting
How important is quality website hosting? How about absolutely critical!
A good web hosting service is of vital importance to any business large or small. Your website has to be accessible on a 24/7 basis and 365 days of the year but any problems with that can have serious consequences for your business.
Every website needs to live on a server somewhere, we take the anxiety and hassle out of all the technical details. If we are building your website, we already know exactly what web hosting setup you need and we already have it ready for you.
Why should you host with us?
There are thousands of web hosting companies out there, each one offering limited this and unlimited that. It is easy to become overwhelmed with the number of choices. Many web hosting companies will also try to up-sell you on services you don't really need.
With our web hosting, you can be sure you're getting everything from people who are involved with your project from start to finish and know exactly what you need. Also, you don't have to deal with any difficult technical support people – you get to deal with the same people you know and trust who built your site. We simply want to make your life easier so there is one less hassle for you to worry about.
Technical Specs
There is actually no need to worry about the technical specs like CPU, RAM, file space, bandwidth, etc – we guarantee that our web hosting service will be a perfect fit for your needs.

Our server connection is located at the US Secure Hosting Center (USSHC) which is known as the most secure data-center in the United States. The data center is a military-built, hardened, underground facility designed to survive and operate normally during a major disaster including a multi-megaton nuclear attack detonated at close range. The facility has been a premier choice for leaders in internet services, technology start-ups and fortune 500 companies. USSHC is located in Monticello, Iowa.
Our web hosting includes: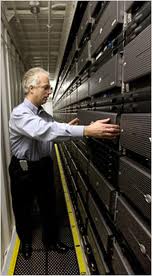 Custom email addresses, you@yourdomain.com
SSL certificates for security available
Automated regular backups
WordPress core and plugin upgrades on a regular basis
Servers are monitored  24/7/365.
99.99% Uptime GUARANTEED!
Fast loading sites & SEO optimized for results
Do I have to host with you?
It is by no means required to host your website with us. However, choosing to host with us is a BIG advantage for you as a full-service client. You don't have to worry about any technical aspects of managing your hosting account and the servers, we do it all for you. Plus you just have a one-point contact for your Web Presence.
Large Brand Name Hosting Companies are well known for over-selling, over-loading with hundreds, even thousands of accounts on a single server.  Not only does this slow down your website loading times (affecting your SEO, aggravating your visitors), but exposes you to every other account on the same shared server.  All it takes is one bad apple (spammer, etc) to take down everyone's quality score, even possibly ruining your IP address and getting you black-listed by the Internet Mail Server Networks.
We are extremely protective of our hosting servers, and we only offer hosting to our full-service design, marketing development clients. We do not offer web hosting to the general public as a stand-alone service.
What do you get with our hosting service? Simply, peace of mind.