About You
It Matters What Type of Client You Are.
To create an effective online marketing solution for your business, we need to have a good understanding of who you are and what you do.
In our experience, great things can happen when we work with the right kind of client. When you are the right kind of client, results can be outstanding. More business starts to come your way – your business grows along with your sales and new customer acquisitions seem to happen naturally.
If you are not the right kind of client, there is almost nothing we can do to help you. That is the challenge! Some companies are proactive and understand consistency has a payoff, while others are purely reactionary, grabbing at every new shiny object and thus sputter and stall and never seem to collect the bounty.
We want to see your business prosper and grow. How do you know if you're the kind of business we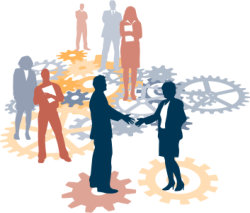 can help?
If a few or more of the bullet points below describe you, then there is a great chance you are a great fit for us to do business with…
You realize your current marketing methods, though somewhat successful, are not tapping into the larger part of the market.
You have a good product or service and you provide good value for the money (even if you are the most expensive in your category)
Your products or services generally sell easily in person but you have trouble attracting qualified prospects cost effectively.
Your company has an entrepreneurial spirit and a positive sales culture.
You are assertive, decisive, and willing to implement proven marketing initiative's.
Here's a few more…
You're a business owner, entrepreneur or organization with a local base of operations that want to increase the visibility of your business on the web.
You know the Yellow Pages don't cut it any more and that most of your customers are looking for you online.
You're using online Pay Per Click (PPC) like Google AdWords to promote your business but are struggling to get the results you want.
You're frustrated by the decreasing ROI of traditional advertising in the Yellow Pages, newspapers, and magazines.
While you know there's a lot of potential out there for advertising on the Internet, you have no idea how to get started.
You're fed up with the traditional ad agency run-a-round with ridiculously high fees; your campaign being turned over to still wet behind the ears creative types who wear cool glasses but have no idea what it's like to sell anything or run a company.
You find that among putting out fires, returning phone calls, developing new products/services, going on sales calls, hiring/firing employees, bookkeeping, answering email, invoicing, payroll, keeping employees motivated and happy, networking, and more – there's not enough time in the day to develop and manage an online marketing process you need to bring a steady stream of customers coming through the door.
You hate prospecting and would rather have customers finding you, rather than you having to go out to find them.
If you think you're the right kind of client for Quick Web Company, we'd love to hear from you!
Working Together is Success.
Henry Ford